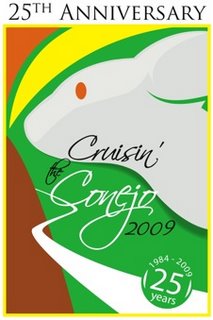 2009 is my Bike focus year, hopefully leading up to a 200 mile bike ride this Summer.
Last Saturday was the 25th annual
Crusin' the Conejo
Century ride. The Century ride was labeled as a 103 mile ride with 6,000 feet of climbing. According to my
gps log
, it was 100.8 miles with about 5400ft of climbing.
Either way, it was a challenging ride, and I felt really strong at the end. I started the ride just after 7am and finished in a little over 7hrs (including a few short rest-stop breaks).
The ride was really well done and well supported. Most rest stops were manned by Boy Scout troops who helped pour water, hold bikes, and prep food. I'll definitely consider doing it again next year because it's local, cheap, and well done.
I love doing organized rides, but it's always a bit of a bummer to have to stop at lights and stop signs. I guess I'm spoiled by Triathlon and Marathon running where the streets are closed down and traffic is controlled for the athletes. Then again, the Conejo Century was only $40, so it's hard to complain about traffic lights. I'm sure it would be 10x more expensive if they had to shut streets down.
Next Saturday is the
San Diego Century